About Us
Our Staff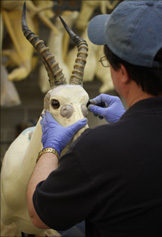 For nearly half a century Marv Gaston and Taxidermy Unlimited has been preserving the memories of our clients. Through the years we've secured our place as one of the world's finest taxidermy studios. Our creations have been awarded the "Master of Masters Award" and "Best of Show" at world competition; however our greatest rewards are the compliments from our clients.
As a passionate sportsman Marv Gaston was also founder, past president, and current supporter of the Minnesota Chapter of Safari Club International. Along with Safari Club International, Marv Gaston and Taxidermy Unlimited currently enjoy supporting FNAWS ( Foundation For North American Wild Sheep ), NTA - National Taxidermist Association, and Pheasants Forever.
Our team of artists is highly dedicated with over 200 years experience collectively. Alan Gaston our lead taxidermist has over 30 years experience and is a world champion taxidermist, with an appreciation for detail needed for true quality, as do all of our staff. Their creations will rival your most vivid memories, thus "Preserving the Memory" for a lifetime of enjoyment.
Our goal is simply to bring our client's visions to life through passion, knowledge, experience,and teamwork.
As one of our clients, old fashioned service is what you can expect from Taxidermy Unlimited. Information before your trip related to field care, import / export, and shipping is available at your request.
- Sincerely the staff at Taxidermy Unlimited