Home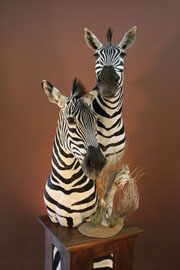 Taxidermy Unlimited - "Preserving the Memory"
Here you will find stunning masterpieces that reveal your most vivid memories. We can turn your memories into reality. Through many years we've secured our place as one of the world's finest taxidermy studios.
Please visit our large "photo gallery" section for some examples of our work. Here you will find galleries that range from Exotic and African Game heads to North American Life Sized pieces.
If you have any questions please click on our contact page or call us at: 952-890-8688.
Thank you - Taxidermy Unlimited